Twelve Promises of the Devotion to the Sacred Heart of Jesus
 Sacred Heart
Jesus Apparitions to St Margaret (1673+)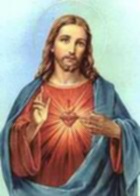 Wherever the image of the Sacred Heart should be exposed with a view to showing it special honour, Jesus would pour forth His blessings and graces.
And He showed me that it was His great desire of being loved by men and of withdrawing them from the path of ruin into which Satan hurls such crowds of them, that made Him form the design of manifesting His Heart to men, with all the treasures of love, of mercy, of grace, of sanctification and salvation which it contains, in order that those who desire to render Him and procure for Him all the honour and love possible, might themselves be abundantly enriched with those divine treasures of which this Heart is the source.
Twelve Promises of the Devotion to the Sacred Heart of Jesus
1. I will give them all the graces necessary for their state of life.
2. I will give peace in their families.
3. I will console them in all their troubles.
4. They shall find in My Heart an assured refuge during life and especially at the hour of death.
5. I will pour abundant blessings on all their undertakings.
6. Sinners shall find in My Heart the source and infinite ocean of mercy.
7. Tepid souls shall become fervent.
8. Fervent souls shall speedily rise to great perfection.
9. I will bless the homes in which the image of My Sacred Heart shall be exposed and honoured.
10. I will give to priests the power to touch the most hardened hearts.
11. Those who propagate this devotion shall have their name written in My Heart, and it shall never be effaced.
12. The all-powerful love of My Heart will grant to all those who shall receive Communion on the First Friday of nine consecutive months the grace of final repentance; they shall not die under My displeasure, nor without receiving their Sacraments; My Heart shall be their assured refuge at that last hour.
Chaplet of the Sacred Heart
1- In the name of the Father, and of the Son, and of the Holy Spirit. Amen.
Our Father, Hail Mary, Apostles' Creed or Anima Christi.
2- On the Our Father beads, say the following:
Eternal Father, I offer you  the precious Blood of Our Lord Jesus Christ, in reparation for our sins, and for the wants of the Holy Church.
 On the Hail Mary beads, say the following:
Jesus  meek and humble of heart, make our heart like your heart.
or
We adore you O most Sacred Heart of Jesus, inflame our heart with the fire of Divine Love with which your Heart is inflamed.
3 – At the end of every set of beads and in conclusion say:
Sweet Heart of Mary, be our salvation.