Good News from COVID–19 Missionary Image Visitations
Good News from COVID–19 Missionary Image Visitations
Dan Lynch
April 22, 2021
Msgr. Nicola Bux, former theologian for the Vatican Congregation for the Doctrine of the Faith, implied that the COVID-19 pandemic was a chastisement for the idols venerated at the Amazon Synod. (Source). Nevertheless, the Missionary Image of Our Lady of Guadalupe, Mother of Hope, continues on her Visitations with signs, wonders and miracles to bring us hope for a Culture of Life and a Civilization of Love.
 
Maryanne O'Toole of Park Ridge, New Jersey, was the Guardian of the Missionary Image of Our Lady of Guadalupe with her husband Jim last Spring. She sent me her delayed Good News Report and wrote, "Please accept my most sincere apologies for the delay in getting this report to you. I endured many problems with the software that complicated the completion of my report. In my opinion the devil was very hard at work. There is great merit in completing the report. One spends time looking back and contemplating all that has transpired during the visit. In Luke 2:19 we read  'But Mary treasured up all these things and pondered them in her heart.' We learn from our heavenly Mother that it is good to ponder things and treasure them!"
So let us ponder and treasure Maryann's report.
 
In the midst of the coronavirus pandemic, the Missionary Image of Our Lady of Guadalupe arrived at our home on April 15th, 2020. Pictured with Our Lady below is my son Nolan, age 12, and my daughter Ellie, age 4. I had arranged earlier in the year, before we knew of COVID–19, to be a Guardian of the Image. When the virus hit and our Catholic churches were locked, when we could not go to Mass, we could not receive Jesus in the Eucharist, we could not go to Confession, people were dying without being anointed, no baptisms, no weddings, no funerals….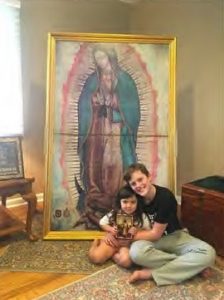 "And how has it happened to me, that the mother of my Lord should come to me?" (Luke 1:41-4).
What an honor and privilege it was to have received Our Lady during the pandemic! What a gift!! We live in northern New Jersey, the Archdiocese of Newark. Our churches were locked… not open even for private prayer or a visit to the Blessed Sacrament!!! In the midst of this darkness, this total eclipse of our Holy Catholic Church, came Our Lady of Guadalupe to our home…our life, our sweetness and our hope!!!! As I pondered Her arrival, I was reminded that not only has Our Lady arrived, but She brings with Her Baby Jesus. We were no longer being deprived of Our Lord; Our Lady had brought Him to us!!!!
 
As Guardians of the Missionary Image during the pandemic, we journeyed with Our Lady to over thirty five homes, five parishes, and one abortion clinic. Hundreds were able to venerate Our Lady via livestream Masses, recitation of the rosary and adoration. At times we also offered outdoor veneration at our home. I must be honest and admit, that initially I was somewhat overwhelmed with the thought of hosting Our Lady during a pandemic. In a worldwide lockdown…. Oh where would we bring Our Lady? However, having been a Guardian before and acutely aware of the mission at hand, I knew that a lockdown was no excuse to keep Our Lady at home.
Our Lady wants to be with Her children! She wants to bring Her Motherly love, protection, and care to as many of Her children as possible. She wants to work Her miracles, bring about conversions and healings, and bring peace and tranquility to a chaotic world just as She did in 1531 in pagan Aztec Mexico.
 
Maria Woltornist is a very dear friend of mine who has been a Guardian of the Image many times. She and I always say to each other "Our Lady plans the schedule".
 
For a brief time I had lost sight of this realization allowing myself to be overwhelmed by the realities of the world. Completely forgetting that this is Our Heavenly Mother, the Mother of God, the miraculous Missionary Image of Our Lady of Guadalupe! It did not take long however, for Our Lady to show me the way. We began our journey on Divine Mercy Sunday at a parish in Boonton, New Jersey, Our Lady of Mount Carmel. It had been a very windy day atop the hill where Our Lady of Mount Carmel sits, as if to prepare me for the whirlwind of activity that lay ahead.
 
April 19, 2020 was Divine Mercy Sunday. Due to the coronavirus restrictions, a very lovely and devout priest from Our Lady of Mount Carmel in Boonton, New Jersey, was offering outdoor Eucharistic adoration with a special blessing for Divine Mercy Sunday, as well as hearing Confessions in the shed that he bought for that purpose. Our Lord would be outside in a monstrance in front of the church. I asked the pastor if Our Lady could be present for this event and he was overjoyed with the idea. Cars packed with family members, friends and neighbors lined up on the street in front of the church to adore Our Lord and receive a blessing.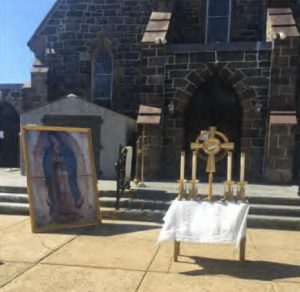 One by one the cars stopped in front of the church to adore Our Lord. The cars were to process to the front of the church where Our Dear Lord would be present in the monstrance. One at a time each car could stop for a few moments. Our Lady of Guadalupe was present beside Her Son for all to venerate. I believe that approximately 200 cars stopped to adore Our Lord that day and to venerate Our Lady of Guadalupe.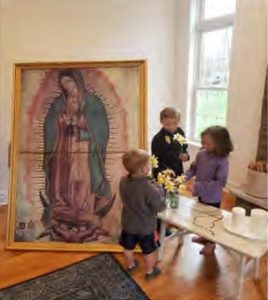 On April 21st, Our Lady was brought to the Trowbridge family. Shortly before Our Lady's arrival the children picked flowers from the yard for Our Lady. Here they are carefully setting the flowers beside Our Lady.
That evening the Trowbridge family prayed the rosary with Our Lady.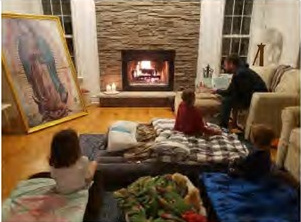 The children slept at Our Lady's feet….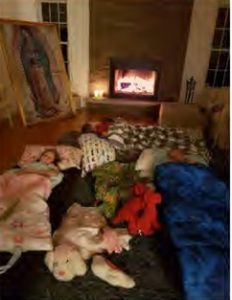 …..and the children said morning prayers with Our Lady.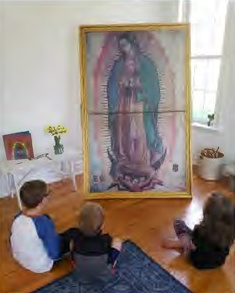 This family was most appreciative of Our Lady's presence in their home during COVID-19. They felt Her Motherly protection and love at this time and were most thankful for all the beautiful memories with Our Lady of Guadalupe during COVID-19.
 
On Friday May 1st we travelled with Our Lady to St. Elizabeth's in Wyckoff, New Jersey. Our Lady remained here for the next week. The Holy Sacrifice of the Mass was live streamed daily with Our Lady of Guadalupe present. There were 2 Masses live- streamed every day.
Hundreds of families logged in to participate in the Mass with Our Lady. There was daily recitation of the Holy Rosary with Our Lady, which was also live- streamed.
 
Below is a photograph of my daughter Ellie O'Toole. (Ellie is short for Elizabeth). We were so fortunate to have Our Lady at our home on May 27th which was Ellie's birthday. Ellie and our 12-year-old son Nolan are adopted. My husband and I were licensed foster parents in the state of New Jersey for a few years. Our hope was that by being foster parents, a child that needed a family might come into our home and we would be able to adopt.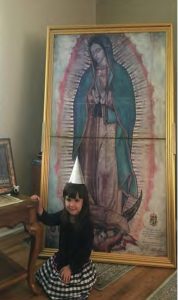 God was so good and answered our prayers twice! In 2015 we adopted Nolan and in 2016 we adopted Ellie. Our Lady of Guadalupe has played a significant role in the adoption of these children and Our Lady continues to play a very important role in their life.
 
On the 4th of July, Our Lady spent the day out on our front lawn. My son Nolan and daughter Ellie offered a glass of homemade lemonade to neighbors and passersby that stopped to meet Our Lady. Via email, I had informed our parish that Our Lady would be available for outdoor veneration. A fairly steady flow of people came to venerate Our Lady and all were most appreciative of this opportunity.
 
A neighbor, completely unaware of who Our Lady of Guadalupe is, had this to say to me, "I was drawn here by Her beauty". I must admit some were drawn, so they thought, by the offering of free lemonade. As always, it was all Our Lady drawing Her children to Her with Her Motherly care and protection. I was so moved by the presence of Our Lady in our neighborhood. I could feel Her graces and blessings flowing out to the nearby homes, our entire block, the neighborhood and even passersby in cars and on foot.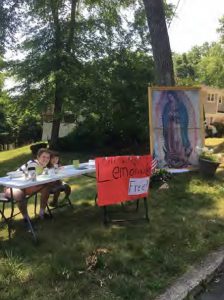 We processed from the Planned Parenthood facility which was around the corner and across the street from Immaculate Conception Catholic Church to the Pilgrim Medical Center on Bloomfield Avenue in Montclair. We prayed the Glorious Mysteries processing to the clinic, the Sorrowful Mysteries in front of the clinic and the Joyful Mysteries on the way back to Planned Parenthood.
This is a very busy section of Bloomfield Avenue in the heart of Montclair. Many cars pass by at all times of the day as well as people on foot. We were a group of about 40 people, yet we were not disturbed in anyway by the police or agitated passersby. We were also very fortunate to have two very holy and devout priests join us in this effort. It was all Our Lady providing Her motherly protection to Her children! Only Our Lady will bring a closing to this death mill!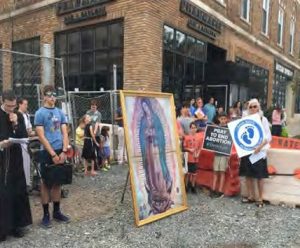 At the conclusion of Our Lady's Visitation, we burned all of the prayer petitions that we collected. As we watched the smoke rise to the heavens we prayed to Our Lady of Guadalupe that, with Her Motherly care and love for all Her children, She would intercede on our behalf and bring all of the petitions to Our heavenly Father.
 
I am eternally grateful for this apostolate. Please accept my most heartfelt thank you to all at Dan Lynch Apostolates for the opportunity to be a Guardian. May God Bless you mightily and I look forward to my next Visitation!!
 
Let us remember the words of 2 Chronicles 7:14, "If my people, who are called by my name, shall humble themselves, and pray, and seek my face, and turn from their wicked ways; then will I hear from heaven, and will forgive their sin, and will heal their land."
Perhaps Our Lady is calling YOU to host a Visitation of her Image. Learn more here.