"I am preparing you for new times" … Jesus in the sky of Agropoli: The most viral photo of the year…
Dear children! I am thanking God for each of you. In a special way, little children, thank you for having responded to my call. I am preparing you for the new times that you may be firm in faith and persevering in prayer, so that the Holy Spirit may work through you and renew the face of the earth. I am praying with you for peace which is the most precious gift, even though Satan wants war and hatred. You, little children, be my extended hands and proudly go with God. Thank you for having responded to my call."
Source: La Lucia Di Maria
The sun makes space in the clouds and rips the sky at sunset (or almost), on the beautiful sea of ​​Agropoli, in the province of Salerno.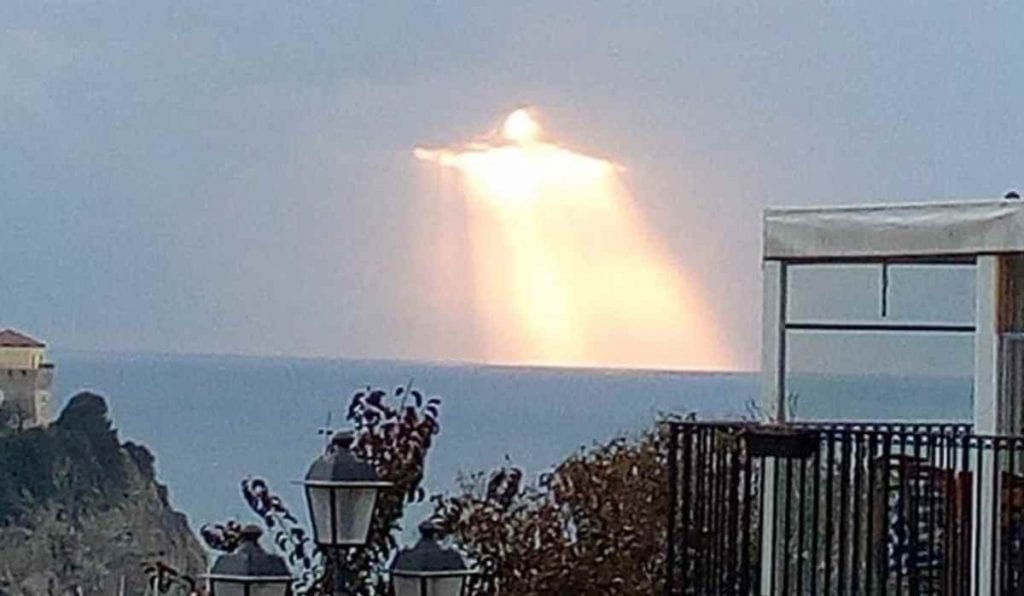 And it seems that the light delineated the figure of Christ the Redeemer who, with open arms, suspended between sky and sea, awaits the return of his faithful to the faith.
What many define only a play of light can not make us remain indifferent, because it is so beautiful as to arouse, at least, some thoughts on the wonders of creation and on the grace of things that nature itself forges.
Who believes the God, however, remains open-mouthed , as recalled to formulate an intention of prayer, in homage to the figure that stands out in the sky and that brings us back to the Christ Redeemer of Rio de Janeiro or to the one on Mount San Biagio di Maratea .
Agropoli: this photo reassures our faith
The photo in question was taken a few days ago by Alfredo Lo Brutto, who then published it on his Facebook page.
He immediately got lots of shares , so much so that everyone will have seen and commented on it, depending on their sensitivity.
We want to do it too, therefore, allowing ourselves to be amazed by the beauty of this image, the combination of reflections and light infiltrations that invite the heart to rediscover how wonderful we could still see, if only we stop for a moment our link with the tangible, with the material and materialistic world , and allow the soul to understand beyond, to project itself towards the boundless horizons of spirituality, to yearn for something that is perceived only when one is willing to recognize oneself as small in the face of creation.
---
The Blessed Mother June 25, 2019
---
Dear children! I am thanking God for each of you. In a special way, little children, thank you for having responded to my call. I am preparing you for the new times that you may be firm in faith and persevering in prayer, so that the Holy Spirit may work through you and renew the face of the earth. I am praying with you for peace which is the most precious gift, even though Satan wants war and hatred. You, little children, be my extended hands and proudly go with God. Thank you for having responded to my call."
Antonella Sanicanti

Please follow and like us:
---
The world is under attack and Mystic Post is facing real difficulties right now.

We need your help spreading the messages of the Queen of Peace.

We work very hard for Our lady every day.

Helping to Spread Our Lady's message of the coming of Her Triumph is our Mission
Satan is attacking her plans for peace and salvation for the world like never before.








God Bless you and thank you for your support and help...Stephen Ryan Founder of Mystic Post