Sun Miracle Over Medjugorje After "Ban" on Holy Mass – This follows Vatican Miracle in Rome and Signs of Our Lady at Lourdes…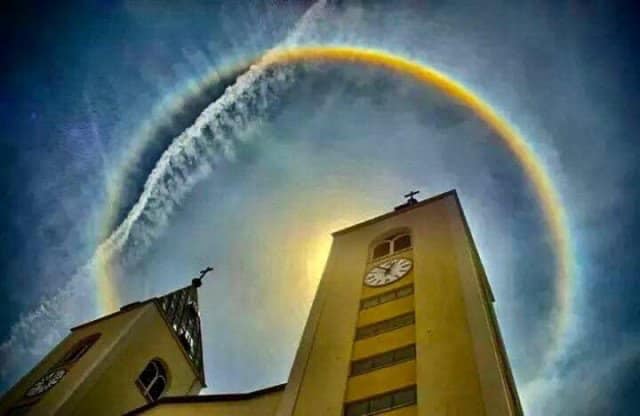 Report from Facebook: This ( sun ring) appeared over Saint James church in Medjugorje after the ban of the Celebration of Holy Mass was given. The same sign appeared over Saint Peters Square in Rome!
---
An event with a miraculous flavor that happened above Piazza San Pietro, at the Vatican.
Thanks to the images published on the Papaboys Facebook page, they allow us to remotely witness the appearance of a giant sun, an event that recalls what happened on October 13, 1917 in Fatima.
Vatican: an event that tastes like a miracle
It cannot be a coincidence that the appearance of this strong light occurred at such a dark moment in our history.
The sun so large , which the legitimate owners of the video have called "a giant host" (given the unusual dimensions), seems to want to talk to us.
The  sun seems to want to reassure us, because the light is there and will soon return to us.
Fabio Amicosante
THE LOURDES APPARITION
Watch Video VIRGIN MARY PRAYS OVER CANDLELIGHT PROCESSION in pics taken Sept 29-30 2017 in Sanctuary of Lourdes, France, during my pilgrimage with a church group from Corpus Christi Tx
The world is under attack and Mystic Post is facing real difficulties right now.
We need your help spreading the messages of the Queen of Peace.
We work very hard for Our lady every day.
Satan is attacking her plans for peace and salvation for the world like never before. Can you help us today?